This year is about to end and Loenhout hosts the last race of the big series for this year, the Azencross. Located near to the dutch border in the north of belgium, this race attracts a larger amount of dutch racers than most of the other belgian races do.
Loenhout faced many different weather situations during the last year, snow, hail and even black ice were often to be seen. Last years edition featured melting snow and icy muddy water as a threat for all participants. But this year everything was different. As this december was mostly dry and unsually warm, the tricky parcours mutated into some kind of meadow-criterium. This changed the script for the races into something completely different.
Larger groups of riders fighting each other in a fast and close competition, leading to sprint decisions in the final lap.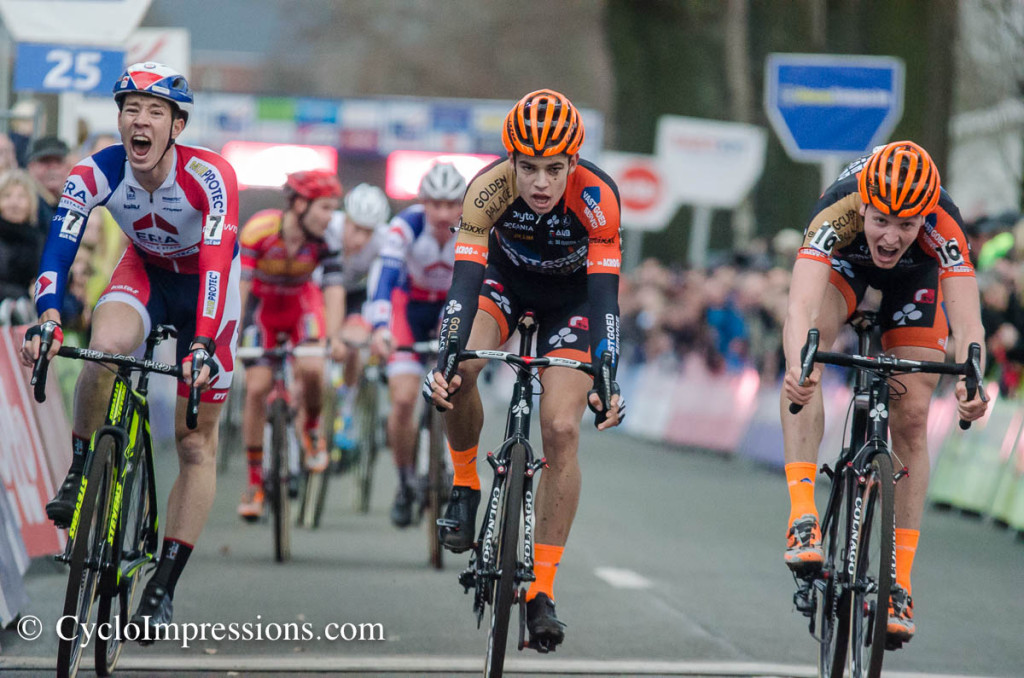 The junior categories saw some dutch winners, as Mees Hendricks won in the U17 and Thijs Wolsink sprinted to victory in the U19 Category. Both races had quite a bunch of roundabout 70 contenders, as youngster from different nations took advantage of the christmas hollydays to compete here in Belgium.
In the U23 category Daan Hoeyberghs, who was a kind of eternal runner-up during the last races, managed to gain his first victory in a major race this season.
It took a final sprint to decide the race of the women elite. In  the beginning a bunch of four, formed by Helen Wyman, Pavla Havlikova, Ellen van Loy and Sanne Cant, took the lead in the race. British champion Helen Wyman lost contact to this group when crashed in the slippery turn right before the finishing straight. The remaining three tried to force an early decision by attacking one after the other, but no one was able to gain a significant advantage. In the end belgian champion Sanne Cant managed to gain victory in the final sprint although she wasn't in the best position as she rode close to the bars.
The men's elite race showed a similar course. A small peloton of about ten riders rode in front, chasing around in high speed. As seen before nobody was able to split the bunch. It lasted long into the second half of the race until Tom Meeusen could gain a short gap in front of the remaining rivals, which he managed to defend up to the finishing line. Only seconds behind Meeusen a sprint royale unfolded. At the end Tim Merlier was the lucky winner in front of his teammate Wout van Aert.